The 150th anniversary of Oskar Merikanto's birth is on 5 August 2018. To mark the anniversay, this article will be available to all visitors to this site for a limited time, after which it will move to the Members Only area. To access the Members Area, please log in or join Sibelius One (click here).

'Are there other great composers in Helsinki besides Merikanto?'
'Janne Sibelius was enormously blessed to have arrived at this moment [1865] in the history of his land', writes the American scholar Glenda Dawn Goss in Sibelius – A Composer's Life and the Awakening of Finland. 'The roll call of infants born in the 1860s reads like a panoply of Finland's finest: Juhani Aho; Axel Gallén; Arvid, Armas, and Eero Järnefelt; Pekka Halonen, Carl Gustaf Mannerheim; Oskar Merikanto; Venny Soldan-Brofeldt; Helene Schjerfbeck; and Ellen Thesleff. Parents of Finnish children born in the 1860s had reason to expect a stable and even prosperous future for their offspring'. 2018 marks the 150th anniversary of Oskar Merikanto's birth. He therefore belonged to the same generation as Jean Sibelius, with whom he shared the same profession and nationality. But what else – if anything – did they have in common?
Both came from Swedish-speaking home environments. Merikanto's original family name was Mattson, which his father Frans Ferdinand had acquired when he joined the army, and it wasn't until 1882 that they adopted the Finnish name. The family came from the Kanto estate in Jalasjärvi in Southern Ostrobothnia. Sibelius's family spoke Swedish on both his mother's and his father's side and indeed Swedish remained his own language of choice throughout his life. Merikanto, on the other hand, was from the late 1880s active as a music critic in the newspapers Uusi Suometar, Päivälehti and Helsingin Sanomat, and in the magazines Säveletär and Valvoja. In this capacity he often wrote about Sibelius's music, mostly favourably.
Neither man's family could be described as wealthy. After the death of Sibelius's father on 31 July 1868 – just a few days before Merikanto was born on 5 August – the family was left deeply in debt. And Merikanto's schooling in Helsinki was broken off early because of his family's modest finances and his father's insecure situation. Sibelius went to school in his native Hämeenlinna and moved to Helsinki only when he began his university studies, but then, as later, he was plagued by financial worries.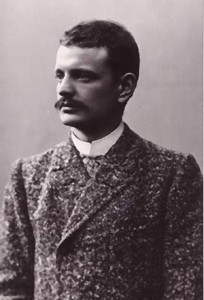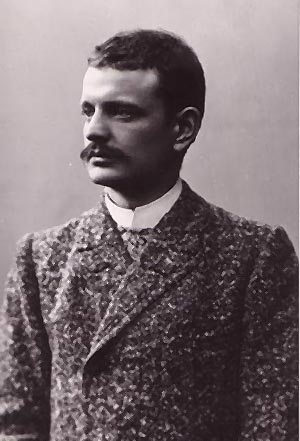 Whereas Sibelius, after giving up his law studies, was a pupil of Martin Wegelius at the Helsinki Music Institute, Merikanto studied privately, taking music lessons (which were given free of charge) from Lauri Hämäläinen, organist of Gamla Kyrkan in Helsinki. But it was the younger man, Merikanto, who was first to enjoy success as a composer and performer. He gave piano and organ concerts from 1887 onwards, and his Summer Evening Waltz (Kesäillan valssi), to this day one of his most popular pieces, was composed when he was just 17. Stylistically it is not so very different from the waltz Sibelius composed for Betzy Lerche some four years later, in 1889.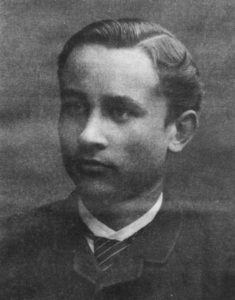 With money earned from his concerts, plus a scholarship and private donations, Merikanto went to study abroad, in Leipzig, in 1887. In this respect too he was ahead of Sibelius, who didn't begin his studies in Berlin until 1889. Merikanto's teachers in Leipzig included Robert Papperitz and Gustav Schreck. It was around this time that Marikanto composed one of his most popular songs, Pai, pai paitaressu (Go to sleep, my darling). After Leipzig, he applied for the job of organist at Gamla Kyrkan, which was vacant following the sudden death of Lauri Hämäläinen, but was unsuccessful and went instead to study in Berlin under Albert Becker in 1891. Becker was also Sibelius's teacher in Berlin.
The year 1892 marked a turning point for both composers. It was then that Merikanto became organist at Nya Kyrkan (now Johanneskyrkan) in Helsinki, a post he was to retain for the rest of his life. He would give many successful concerts there, notable with the leading Finnish baritone of the time, Abraham Ojanperä. In Sibelius's case it came with the first performances of his huge symphonic poem Kullervo, in which Ojanperä was one of the soloists. Merikanto wrote about the work: 'Sibelius has taken a great step forward with this work and, at the same time, taken Finnish art towards a highly promising future… The whole composition is, owing to its Finnish content, the most impressive and powerful work ever to come from a Finnish pen.' Sibelius didn't write reviews but in June 1895 he was persuaded to comment on Merikanto's Summer Evening Waltz in the newspaper Päivälehti, which had just (belatedly) been published. His remarks were ascribed to 'another prominent composer' and were combined with information from the publisher: 'This waltz is exceptionally pleasant end effective in terms of both form and content. The introduction immediately shows what the composer is aiming for. This waltz is in the sway of a strange passion. It is just like our sky, and it feels so grey, but it depicts that grey light that comes from the black eyes of a lover. Everybody should purchase it, as it represents the shortest way successfully to gain your beloved's favour.'[1]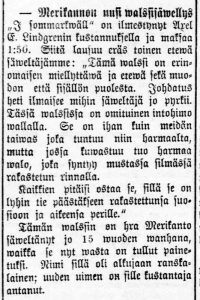 But the première of Kullervo draws attention to one of the major differences between Sibelius and Merikanto. Whereas Sibelius built his reputation on his seven mighty symphonies, his violin concerto and symphonic poems, Merikanto concentrated – for now at least – on small-scale compositions, piano pieces and songs. Sibelius wrote plenty of those as well, but they have tended to be overshadowed by his big orchestral pieces. One area that Sibelius left alone was opera (at least after 1896, when his one-acter Jungfrun i tornet was performed). Merikanto, on the other hand, composed Pohjan neiti, the first Finnish-language opera, in 1898 – a year before Sibelius produced his first symphony. The opera was written as a competition entry – but in the end Merikanto was the only one to submit a work! But whereas Sibelius's symphony was performed and acclaimed immediately, Pohjan neiti had to wait a full decade for its première, which was not in Helsinki but in Vyborg. Again Abraham Ojanperä took part, singing the role of Väinämöinen. Merikanto was well aware of the increasing interest in opera in Helsinki in the early 20th century, and in 1911 he was one of the founder members of the National Opera, becoming its first conductor and répétiteur. And it wasn't long before he was writing more operas himself: Elinan surma (Elina's Death) was premièred in 1910, and Regina von Emmeritz in 1919.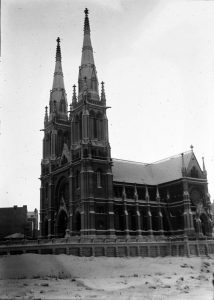 Another area where Merikanto was active but Sibelius wrote little was organ music. Sibelius published just two pieces for solo organ, Intrada and Surusoitto, both late works although he sketched a suite for the instrument around the same time, and the organ is also used in a few other pieces including the theatre scores for Svanehvit and Jedermann. Merikanto, on the other hand, wrote important music for the organ, and his work as organist at Nya kyrkan meant that he was well qualified to do so. He also set a number of religious texts as solo songs. Sibelius's relationship with the church was less clear-cut. Although his mother's side of the family was deeply religious – indeed, his grandfather had been a priest – and his sister Linda was gripped by religious mania, he himself kept his distance from conventional religiosity. He wrote very little church music, though towards the end of his career he did compose a score for the Freemasons, of which he had become a member a few years earlier, in 1922. Sibelius once said to his secretary Santeri Levas: '"What peace and deep devotion Nature can arouse in man!" Then he spoke about the astonishing sense of law in the universe, and an almost inconceivable harmony that makes every human effort seem tiny and senseless. "That", he concluded, "is precisely what I call God."'
Merikanto and Sibelius both travelled widely. For example Merikanto undertook studies of church music internationally; he visited Scandinavia, Germany, Italy, France and England in 1907, and went back to Italy four years later. Perhaps his time in Italy was an inspiration for his operatic work, in which traces of the Italian bel canto style can be found. Sibelius, on the other hand, didn't let his travel destinations influence the sound his music to any significant extent: for example he worked on Tapiola, with its evocation of Finnish forests, while on the island of Capri – except perhaps in the case of the tone poem The Oceanides, which he revised substantially while steaming across the Atlantic to America, where he would conduct its first performance in 1914. Merikanto travelled to America too, as early as 1900, making a major concert tour as a pianist. He also made several visits to Russia, performing in St Petersburg (1902, 1916) and Moscow (1914).
Both Sibelius and Merikanto found sanctuary in an 'artist's home'. In Sibelius's case, Ainola in Järvenpää was his home for more than half a century, from 1904 on, and was the environment in which many of his later masterpieces were conceived – although in the early days he actually composed relatively little there, and even later he would often work at a city hotel instead. 1902 saw the construction of Merikanto's home Kantola in Ruovesi – not far from Kalela, the country workshop and home built by Axel Gallén in 1894–95. Kantola became his regular summer residence, and it was there that he composed many of his works. The fact that Merikanto tended to compose during the summer months reflects his busy work schedule and invited comparison with the young Sibelius during his student years, when many of his most important works were composed during the summer holidays – among them the 'Hafträsk' and 'Korpo' Trios.
With so many similarities, you might think that Sibelius and Merikanto would have been good friends. But were they? In his diary, which begins in 1909, Sibelius mentions Merikanto just three times. The first time was on 21 April 1911, acknowledging a positive article about his recent music in Tampereen sanomat. In 1918 he mentions sending Merikanto a telegram to mark the latter's 50th birthday, and the next year (Aug 1919) Merikanto's name crops up in Sibelius's reaction to an article he didn't like by the genealogist Eeli Granit-Ilmoniemi, drawing attention to the modest social status of Sibelius's ancestors: 'Granit-Ilmoniemi on the warpath again. Compares me with Kuula, Merikanto and Klemetti – all of us ddescended from peasants… Why dredge up how things were 200 years ago?'[2] In his correspondence with his friend and mentor Axel Carpelan, Merikanto's name doesn't appear at all, and in his correspondence with Adolf Paul, Merikanto is only mentioned once, in passing – by Paul, not Sibelius. And in his letters to Aino, Sibelius mentions Merikanto, again in passing, only in one letter in 1891.[3]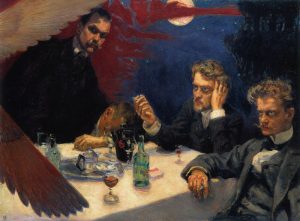 On the other hand, Merikanto is depicted in Axel Gallén's notorious Symposium painting, along with Sibelius, Robert Kajanus and Gallén himself, all very drunk. They were both members of the so-called 'Young Finns', the cultural and political group with its roots at Helsinki University that numbered Juhani Aho, Eino Leino and Arvid Järnefelt among its foremost members and which aimed for 'cleaner air, a younger, more European view of life, religious liberal-mindedness and tolerance, power to the people in national and social affairs' (Leino). But after this period in the 1890s, they seem to have had surprisingly little direct contact. Was Sibelius jealous of his colleague's early popularity? Or did their paths simply not cross very often? The latter seems more likely. There certainly does not seem to be evidence of any rift between the two men – and if Sibelius was genuinely displeased with one of his colleagues (e.g. Wilhelm Peterson-Berger, Granit-Ilmoniemi and at times even Robert Kajanus), contemporary reports plus his letters and diaries have tended to make this very clear.
Unlike Sibelius, who is often accused of writing in the folk style but actually didn't, Merikanto remained faithful to a style inspired by folk music all through his career. And he did compose a lot: no symphonies, sonatas or concertos, but – in addition to his operas – there were theatre scores, well over 100 choral pieces, more than 100 piano pieces and several hundred songs. Merikanto wrote solo songs throughout his career, the first before he was 20 in the mid-1880s and the last from 1924, the year of his death. This is a comparable period to Sibelius, whose first song (Serenad) dates from 1887–88 and whose last (Narciss) from 1925 (disregarding arrangements and revisions). Like Sibelius, Merikanto published his songs in collections, but these were not designed as song cycles as such. Merikanto's popularity was helped by the fact that he was the first composer to set mostly texts in Finnish. Even his settings of poems in Swedish and German are often heard in Finnish translations. Sibelius, on the other hand, composed the vast majority of his solo songs to Swedish texts by poets such as Runeberg, Tavaststjerna, Rydberg, Josephsson and so on.
In the early part of his career Merikanto won great popularity – even greater than that of Sibelius. According to a story told by the critic Karl Flodin, a Helsinki musician was performing in the Finnish countryside in the final years of the 19th century. A member of the audience asked him: 'Are there other great composers in Helsinki besides Merikanto?'
Kimmo Korhonen has remarked: 'Whereas Sibelius was seen as unequivocally a 'highbrow' composer and was appreciated primarily among the upper classes, Merikanto managed to bridge the gap between concert music and the public at large.'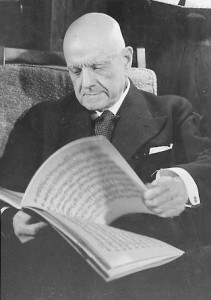 Part of Sibelius's perceived aloofness was probably because he was less in the public eye than Merikanto. Sibelius could be described as a full-time composer. He did conduct his own music – more often in the theatre than in the concert hall – partly in a vain effort to raise money – and he made a few half-hearted attempts at teaching, but his focus was always on composition. Merikanto, by contrast, had a high profile in many areas of music besides composition. I have already mentioned his work as a music critic and an organist. In addition, he was organ teacher at the Church Music School until the First World War, and at the Helsinki Music Institute until 1920 – many of his pupils went on to study in Germany. He ran a piano shop for a while in the 1890s, first together with H. W. Schalin and later with Emil Sivori – the latter shared Merikanto's organ-playing background, having graduated from the Turku Cantors' and Organist's School; he had also studied in Leipzig. Merikanto was a jury member at song festivals; he conducted; he accompanied famous soloists – not just Finnish performers such as Aino Ackté, Abraham Ojanperä and Wäinö Sola but also international stars including Pablo Casals and Fritz Kreisler.
With the exception of a performance of Andante festivo recorded on 1 January 1939, long after he had stopped conducting regularly, there are no recordings of Sibelius as a conductor. Merikanto, on the other hand, made a number of discs and even participated in some of the earliest recordings of Sibelius's music – accompanying the mezzo-soprano Alexandra Ahnger in Demanten på marssnön, Säv, säv, susa and Men min fågel märks dock icke, recorded in Helsinki in 1904.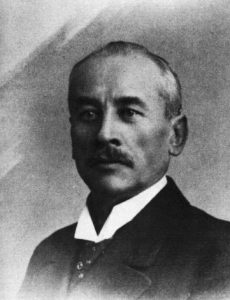 In the end, Merikanto's pace of work became too much for him and in 1918 he started to suffer from the heart problems that ultimately led to his death on 17 February 1924, aged just 55. Not a long life – but actually longer than that of Sibelius's brother Christian, who was born eight months or so after Merikanto but died eighteen months earlier. Sibelius, despite decades of cigars and alcohol, lived to 91: 'All the doctors who wanted to forbid me to smoke and to drink are dead', he said at the age of 87, 'But I quietly go on living.'[4]
Sibelius and Merikanto are in many ways complementary figures. Between them, they covered virtually every musical genre – from miniature to symphony and opera, from folk music to art music and church music. Both of them wrote pieces that have become so much a part of the Finnish musical landscape that they need no introduction – an both have therefore made an indelible impression on the cultural life of their homeland.
© Andrew Barnett 2018
[1] 'Merikannon uusi walssisäwellys "I sommarkwäll" on ilmestynyt Axel E. Lindgrenin kustannuksella ja maksaa 1:50. Siitä lausuu eräs toinen etevä säveltäjämme: "Tämä valssi on erinomaisen miellyttävä ja etewä sekä muodon että sisällön puolesta. Johdatus heti ilmaisee mihin säweltäjä jo pyrkii. Tässä walssina on omituinen intohimo wallalla. Se on ihan kuin meidän taiwas joka tuntuu niin harmalta, mutta jossa kuwastuu tuo harmaa walo, joka syntyy mustassa silmässä rakastetun rinnalla. / Kaikkien pitäisi ostaa se, sillä se on lyhin tie päästäkseen rakastettunsa suosioon ja aikeensa perille." / Tämä walssin on hra Merikanto säweltänyt jo 15 wuoden wanhana, waikka se nyt wasta on tullut painetuksi. Nimi sillä oli alkujaan ranskalainen; uuden nimen on sille kustantaja antanut.' Päivälehti 29.6.1895
[2] 'Granit Ilmoniemi åter i farten. Jämställer mig med Kuula Merikanto och Klemetti – vi alla härstammande från bönder… Hvarför glöta i det som varit för 200 år sedan?'
[3] 23.10.1891 from Lovisa.
[4] Levas, Sibelius, A Personal Portrait, J.M. Dent 1972, p. 20